This site brought to you by Stefan Gonick
EFT Practitioner, Trainer and Soulmate Attraction Mentor
www.EFT-Alive.com Single2Soulmate.me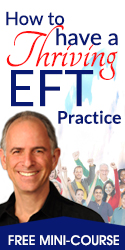 Disclaimer: The presenters feel that these workshops generate extraordinary benefits for all attendees. However, EFT is a very flexible process and thus the workshops represent the views of the presenter(s) and do not necessarily reflect those of EFT, Gary Craig or Stefan Gonick, the owner of this web site.
Teleclass Information
Diploma in Integrated Energy Techniques & NLP Module 3

Diploma in Integrated Energy Techniques & NLP (Neuro Linguistic Programming
Date:
Friday, March 03, 2023 to Monday, March 06, 2023
Time:
10.00 - 5.00
Num Days:
4
Cost:
£2200.00 (All 3 Modules)
Presenter(s):
Emma Roberts & Sue Beer
Location:
This is a teleclass.
Phone:
+44 208 348 5305
Email:
Email Presenter
Web Site:
http://www.theeftcentre.com
Return to Workshop Listing
---
Imagine combining the very best ways to communicate with the unconscious mind naturally and conversationally with the power of tapping? Imagine the confidence that comes from knowing you have a blend of the latest, most effective and ecological change and transformation processes…at your finger tips!?

Do you want to be a truly excellent practitioner?

Do you worry that you'll get difficult clients?

Do you have faith in EFT but worry about your ability as a therapist?

Do you have a nagging awareness that you need more training but are loathe to spend £1000's studying NLP or years gaining a counselling or psychotherapy qualification?

Do you have an NLP qualification but still feel something's missing from your toolbox?

Do you have all the qualifications on paper but are still unsure when to use what or how to blend it all together?

What can we offer you?

As well as being amongst the first in the world to achieve the EFT Master designation we have expert knowledge and experience in the very finest ways of working with indirect hypnosis, NLP, Coaching and psycho-spiritual approaches – for example 12 Steps, A Course in Miracles, The Work of Byron Katie.

We offer you the wisdom of 20 years studying practicing and teaching the best of what works. In a nutshell, this course is a distillation of what you need to know and master to be a really effective practitioner. And while it would take you years to accumulate this amount of knowledge and experience, here it is presented in a form which is learnable in months – and we teach in a way that will enable you to grasp complex material easily and effortlessly… you won't feel like you are learning!

The Key Elements

There are three key elements to this training. The first is its metaphysical approach, bringing together spirituality and the new science of pioneers such as Bruce Lipton, Candace Pert and David Hamilton. In brief the IET philosophy is one that rests on the premises that Mind creates reality through language and behaviour; and that every one and every thing is meaningfully interconnected.

The second is its emphasis on the relationship between the unconscious mind and the energy system. Understanding and practising principles from Ericksonian and indirect hypnosis will considerably enhance your delivery of energy techniques. Each module teaches key language skills which will enable you to maximize the effectiveness of tools such as EFT and NLP, increasing your ability to communicate verbally – and, as you will discover, more importantly – non verbally. This is the magic, and we can teach you the structure and practice of it.

The third key element of this training is its emphasis on Self Realisation. The only way to really embody these learnings, and express them congruently and fluently, is through your inner understanding and experience. Everything in this course is designed to support you and guide you in this. It is life changing.

Art in Action

Forty years ago the original modelers of NLP, Richard Bandler and John Grinder asked themselves how it was that certain top therapists (Virginia Satir, Milton Erickson, Fritz Perls) achieved the amazing results they did (while others did not). They worked out the component pieces of what worked in a way that was simple to convey to others and as a result a huge evolutionary leap came about. Of course over time things start to get complicated and unclear again, like a river that muddies and loses its direction – little whirlpools form, going round in circles, until something happens to clear it out again and restore the flow. While energy techniques have added an exciting new paradigm we believe that it is time for refocusing with some of that original, pioneering NLP spirit of clarity, focusing on effectiveness and cutting to the quick of what works. It is time to reassess the best of the best again.

There are truly amazing, powerful techniques for change available today. The question is – how do you make them part of you and practice them with an authenticity that is so attractive to others? Over and over people ask how do you get started, how do you link everything together, how do you blend all that you know together fluently, elegantly? How do you know when to do what – what is it that makes this work look like art in action?

"Thank you both and thank you so much for the experience of the last few months. I find it quite hard to believe how far I have come in my own personal journey in the last short while and that is largely down to the amazing learning experience you both provide. The warmth and compassion you extend to us whilst we grapple with the concepts, and practice our new skills, is extraordinary and undoubtedly contributes to the pace and depth of all our learning." Kathy Coleman

So who is this training for?

Anyone who has completed an EFT Practitioner training but does not feel ready, or confident enough setting up in practice – or charging clients. Psychotherapist, psychiatrists, psychologists, counsellors, coaches, hypnotherapists or NLPers who want to integrate energy techniques with an existing practice.

Anyone who wants to dramatically improve their communication and relationship skills personally and professionally – in business or teaching.

Anyone, young or old, who wants to supercharge their work on themselves (whether practicing or not).

Anyone who has already completed an NLP Practitioner or Master training and feels drawn to the IET approach and philosophy.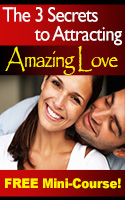 Discover the 3 Keys to
Finding Lasting Love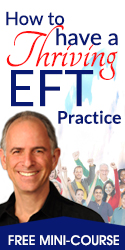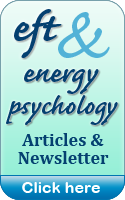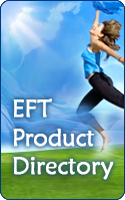 EFT never ceases to amaze me! The process is gentle and often provides benefits where other methods fail.

— Dr. R. Vergini, MD