This site brought to you by Stefan Gonick
EFT Practitioner, Trainer and Soulmate Attraction Mentor
www.EFT-Alive.com Single2Soulmate.me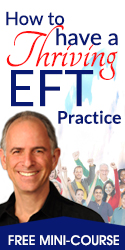 Disclaimer: The presenters feel that these workshops generate extraordinary benefits for all attendees. However, EFT is a very flexible process and thus the workshops represent the views of the presenter(s) and do not necessarily reflect those of EFT, Gary Craig or Stefan Gonick, the owner of this web site.
Workshop Information
Intention Tapping: Accelerate Your Tapping Results

Transform your life & help others with Intention-based Energy Process (IEP)
Date:
Saturday, August 17, 2019 to Sunday, August 18, 2019
Time:
9.30am - 5.30pm, 9.30am - 5.00pm
Num Days:
2
Cost:
$395 Early Bird, $495 Full Fee
Presenter(s):
Steve Wells, Internationally recognised leadership coach and peak performance consultant
Location:
Harbour Hospice Hibiscus Coast
2a John Dee Cres
Whangaparoa, Auckland New Zealand
Phone:
+64 21466239
Email:
Email Presenter
Web Site:
http://www.eftdownunder.com/intention-tapping-auckland-workshop/
Return to Workshop Listing
---
Free yourself from stress, fear, and anxiety – and help others – with new Intention-based Energy Process (IEP)

This special workshop will show you how to use this exciting new emotional healing technique to create transformational changes for yourself and others.
Learn to access the power of the unconscious mind to accelerate the results you can achieve with EFT tapping and other change techniques.

"I was knocked out by how fast and versatile these processes are for shifting stuck and hard to work with difficulties… It's fast, it's simple and it allows your unconscious mind to do most of the work."
– Andy Hunt, AAMET EFT Trainer

In this 2-day workshop, you'll learn the foundational techniques of IEP, also known as Intention Tapping, and how to use it to free yourself and others from the stress of negative emotions and negative thought patterns.
Using IEP you can quickly quiet your mind, calm your emotions and access your inner resources.

Then, we'll go further and show you how to apply IEP to the core beliefs that cause many emotional problems.

Steve will take you through some powerful processes for uncovering your unconscious beliefs, enabling you to discover what's been holding you back from living the life you desire. Counsellors, practitioners and helpers will learn techniques for helping clients to gain freedom from negative beliefs that have been causing their suffering and preventing them from making positive changes and enjoying life.

You'll learn how to use IEP to release core beliefs and emotional blocks that have been holding you or your clients back in key areas of your life, so you / they can be free to make positive changes in your / their career, business, relationships, finances, health… whatever area you choose.

Finally, we'll explore how to use IEP to release the negative effects of past traumas and hurts. You'll learn a range of strategies for making trauma release more gentle and more effective, with less suffering and more empowerment for yourself and any others who you help with these techniques.

Helpers and Healing Practitioners will learn to use IEP to help clients release their resistance to change, and will leave with new skills for working with difficult clients and issues.

What is IEP / Intention Tapping?

IEP is a revolutionary new emotional healing process developed by Steve Wells that uses specific definite intentions to target the emotional disturbances behind problems, often resulting in impressive emotional and energetic shifts. Intention Tapping combines IEP's intentions with acupoint tapping for rapid and lasting changes.

How does it work?
The intentions used in IEP act as commands to your unconscious mind to release the emotional attachments behind your problems, to relieve the body disturbances associated with negative emotions and restore you to a place of calm clarity. As a consequence, you gain immediate access to your inner strengths and resources for positive change.
When tapping is combined with IEP, the tapping works in concert with the powerful intentions to harmonise the feelings in the body and bring you back into emotional balance.
This gentle and natural process often creates rapid positive shifts in thinking and feeling which are surprising and enduring.

Find out more and register at:
https://www.eftdownunder.com/intention-tapping-auckland-workshop/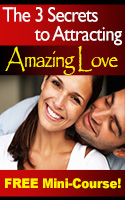 Discover the 3 Keys to
Finding Lasting Love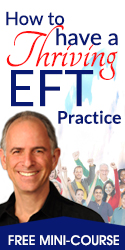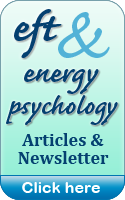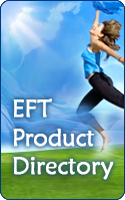 EFT never ceases to amaze me! The process is gentle and often provides benefits where other methods fail.

— Dr. R. Vergini, MD