This site brought to you by Stefan Gonick
EFT Practitioner, Trainer and Soulmate Attraction Mentor
www.EFT-Alive.com Single2Soulmate.me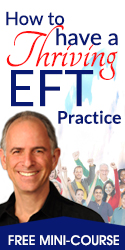 Disclaimer: The presenters feel that these workshops generate extraordinary benefits for all attendees. However, EFT is a very flexible process and thus the workshops represent the views of the presenter(s) and do not necessarily reflect those of EFT, Gary Craig or Stefan Gonick, the owner of this web site.
Teleclass Information
EFT Professional skills 2

15 CE and CME for psychologists, social workers, counselor,MFTs physicians
Date:
Monday, September 12, 2022 to Monday, October 10, 2022
Time:
variables
Num Days:
30
Cost:
$397 before Sept
Presenter(s):
Michael Demolina Robert Schwarz
Location:
This is a teleclass.
Phone:
619-861-2237
Email:
Email Presenter
Web Site:
https://EFTonline.org
Return to Workshop Listing
---
s this EFT course a good fit for you?

Do you wish you had an evidence-based, mind-body approach that can rapidly treat traumatic or stressful memories and experiences with results that last?

Do you want tools that help clients develop a mindful and compassionate perspective as well as shift their experience towards emotional well being ?

If a client is about to tell you a horrible event that causes them tremendous emotional pain, are you absolutely confident that you can stay totally present with them AND help them resolve that event so that they feel whole and without pain?

Do you desire a skill set that allows you to work effectively with a wide variety of clinical and performance issues?

Is it important to you to have a professional level energy psychology training that you can integrate with your current framework and skills?

If you answered yes to any of these questions, then read on about this great Emotional Freedom Techniques (EFT) training!


WHAT MAKES THIS EFT COURSE SPECIAL?

IN A RECENT SURVEY, 74% OUR STUDENTS RATED THIS EFT COURSE AS MORE EFFECTIVE THAN A LIVE 2 DAY TRAINING. THE REMAINING 26% RATED IT EQUAL TO LIVE TRAINING.
This course:

Includes live, virtual small group meetings with trained EFT expert facilitators. You will actually be doing video online practice sessions with another student.

You can even ask for help from your highly trained EFT facilitator in real time. (Yes, we have solved that drawback to online training.)

Is tailored for mental health professionals, physicians, nurses and other licensed allied health professionals.

Includes demonstrations with detailed commentary to help you think like an expert EFT practitioner.

Is designed so that you will go deeper and faster than many other courses.

By the end of Professional Skills 1, you will have the basic tools you need to use EFT with many of your clients' problems.


ELIGIBILITY FOR EFT PROFESSIONAL SKILLS 1
The program is intended for practitioners in any profession who are trained and licensed to work with emotional trauma and distress, or with the emotional aspects of illness or injury, or with any kind of mental health problems. This program assumes a reasonable level of counseling skill. The following degrees and/or job specializations are required.

Masters' degree level or higher licensed mental health professionals (psychologists, social workers, counselors, MFTs, LMHCs, addiction counselors)
Psychiatrists and physicians

Nurses with an MSN specializing in psychiatric nursing

Certified addiction counselors (bachelors' level) who have at least 3 years full time experience counseling addicts

Licensed acupuncturists or licensed chiropractors (you should already have experience and counseling skills dealing with client's emotional issues)

If you are unsure if you meet these criteria, contact us at acepstaff@gmail.com or call 484-380-2448.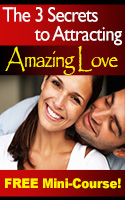 Discover the 3 Keys to
Finding Lasting Love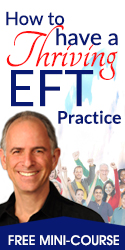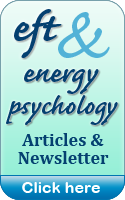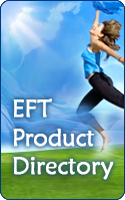 EFT never ceases to amaze me! The process is gentle and often provides benefits where other methods fail.

— Dr. R. Vergini, MD